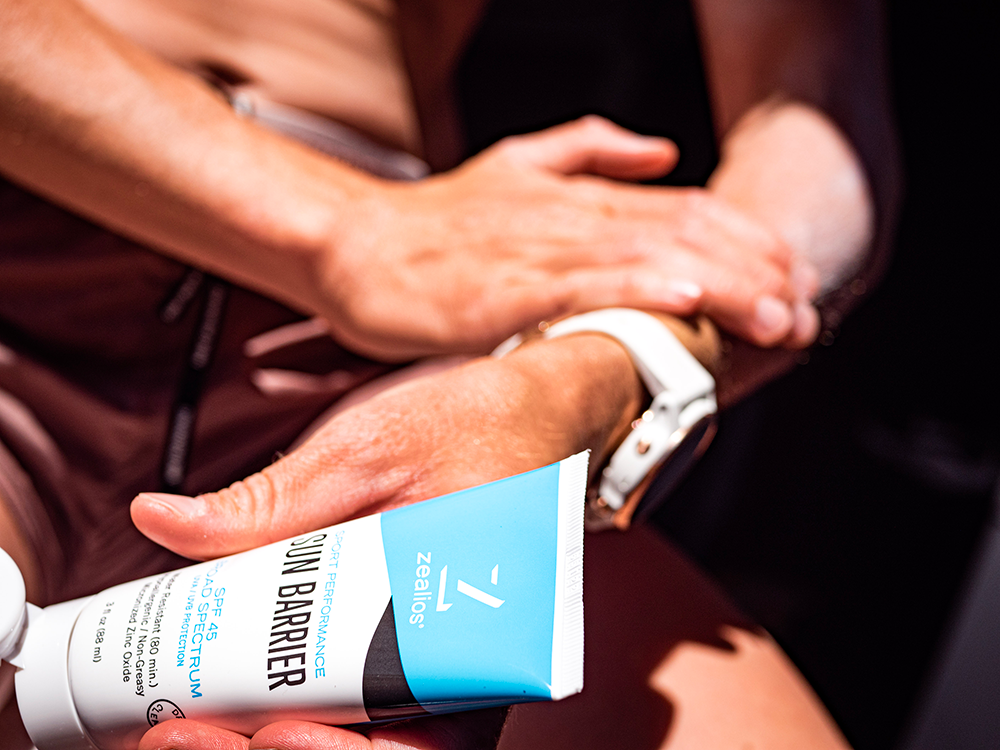 WHY SHOULD YOU CHOOSE ZINC?
Zinc Oxide is a natural mineral and provides a physical barrier blocking the sun's rays from penetrating your skin. Many sunscreens out there only provide chemical ingredients which absorb the sun's rays into your skin.
ALSO CHOOSE A SUNSCREEN THAT WILL ACTUALLY STAY ON
Watch Sun Barrier SPF 45 sunscreen be applied under water!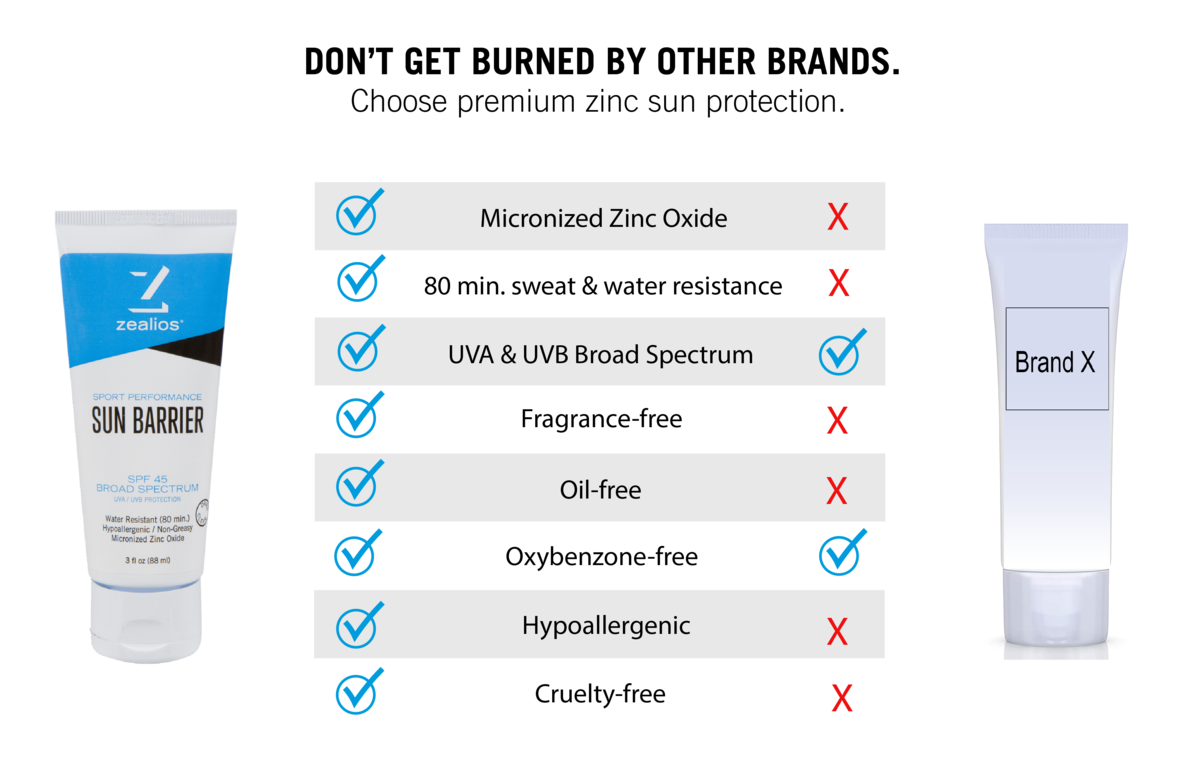 THE SCIENCE BEHIND OUR ZINC PROTECTION

SUNSCREEN PROTECTION

There are two key facets of UV production that cause zinc to provide better protection than avobenzone, a chemical ingredient that absorbs the sun's rays versus blocking them. Avobenzone is found in many of the sunscreens on the market.
The first is UV spectrum coverage and the second is photostability. These two characteristics of sunscreen speak to how much UV protection is provided and for how long. The FDA monograph states that avobenzone can only be used at maximum concentration in any sunscreen at 3%. Zinc is safe enough to use at a maximum concentration of 25%.


UV SPECTRUM COVERAGE


The chart below is a comparison of UVA/UVB rays absorbed or reflected by these two ingredients. This chart is a measurement of UV protection as indicated by the space under each curve. For avobenzone at 3% (the blue curve), and Zinc (Zano, the red curve) at 7.5%. Note that all areas under the curves represent the portion of UV rays that are screened with specific wavelengths indicated along the X-axis.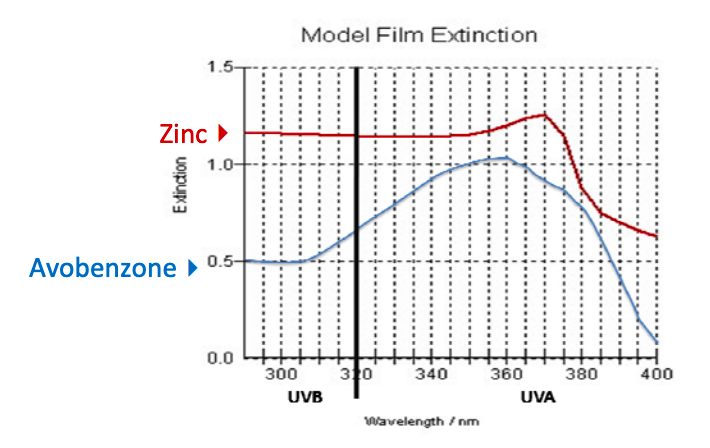 The area under the Zinc curve (top/red) is greater than the area under the avobenzone curve (lower/blue), indicating Zinc provides better UV protection for all UVA/UVB wavelengths. The data presented in this graph is from an evaluation after initial application and does not take into account the rapid erosion of effectiveness for avobenzone.
Sources:


1. Zano 10 and Xperse, excellent broad-band UV protection from mineral UV filters in personal care and sunscreen formulations, Measurements done in O/W emulsion to 4MEDs (5.7cm2 TUV per MED), McBride, pg 16, 7/26/2010.
2. Concentrations of Sunscreen Agent Benzophenone-3 in Residents of the United States: National Health and Nutrition Examination Survey 2003-2004, Antonio M. Calafat; Lee-Yang Wong; Xiaoyun Ye; John A. Reidy; Larry L. Needham, Posted: 08/11/2008; Environmental Health Perspectives. 2008; 116(7): 893-897. 2008 National Institute of Environmental Health Sciences.


3. Nachweis von UV-Filtersubstanzen in Muttermilch = Detection of sunscreen agents in human breast milk, Hany, J., Nagel, R., Henrich-Heine-Univ. Dusseldorf, medizinisches Inst. Umwelthyg., 40225 Dussldorf Allemagne.


4. Photoallergic contact dermatities is uncommon., Darvay A, White IR, Rycroft RJ, Jones AB, Hawk JL, McFadden JP., Department of Environmental Dermatology, St. John's Institute of Dermatology, St. Thomas' Hospital, Lambeth Palace Road, London SE1 7EH, UK.